Tickets for visiting all of Merlin Entertainments' attractions when they re-open will be reduced in number to allow for social distancing measures. Guests should pre-book tickets to guarantee entry.
If your question is regarding the online code printed inside your cereal pack and how to redeem this then please refer back to the FAQ main menu and read 'redeeming my online code'.
If you do not have an online code (e.g. you are in possession of a snack pack including Fruit Winders, Rice Krispie Squares etc) you now need to pre-book your tickets online to guarantee your entry and can use our new Merlin codes to do so.
First of all you need to know the type of ticket you want to buy. A Grown Up's Go Free (GUGF) ticket admits one full paying child plus one free adult. A Mate's Go Free (MGF) ticket admits one full paying adult and one free adult ticket. Please use our diagram here to understand which ticket type you need.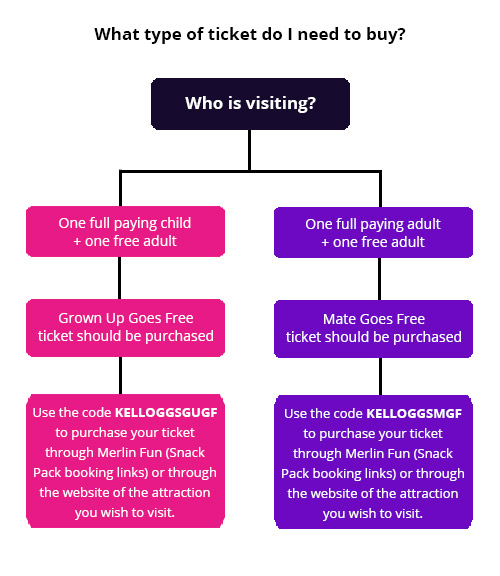 There are two ways to pre-book your ticket if you are in possession of a snack pack voucher. You can either:
1. Use the NEW booking links we've added to this website – simply click on the attraction you wish to visit and ensure you click on the booking link for Snack Pack vouchers when prompted.
2. Visit the website of the attraction you wish to visit e.g www.altontowers.com, click to buy a day ticket and in the attraction's calendar click on the top right hand tab 'Promotional Code'. Please enter the code KELLOGGSGUGF or KELLOGGSMGF depending on the ticket you wish to purchase. Continue the booking journey and pay to complete your booking.
On arrival at the attraction if you are in possession of a Snack Pack voucher you are required to present the Kellogg's voucher along with your e-ticket. If a valid voucher cannot be supplied you'll be required to purchase your second ticket at full gate price at Admissions and entry is not guaranteed.
Thank you for your feedbank.